Blog
20 de janeiro de 2020

2009-2019 environmental balance: making a difference!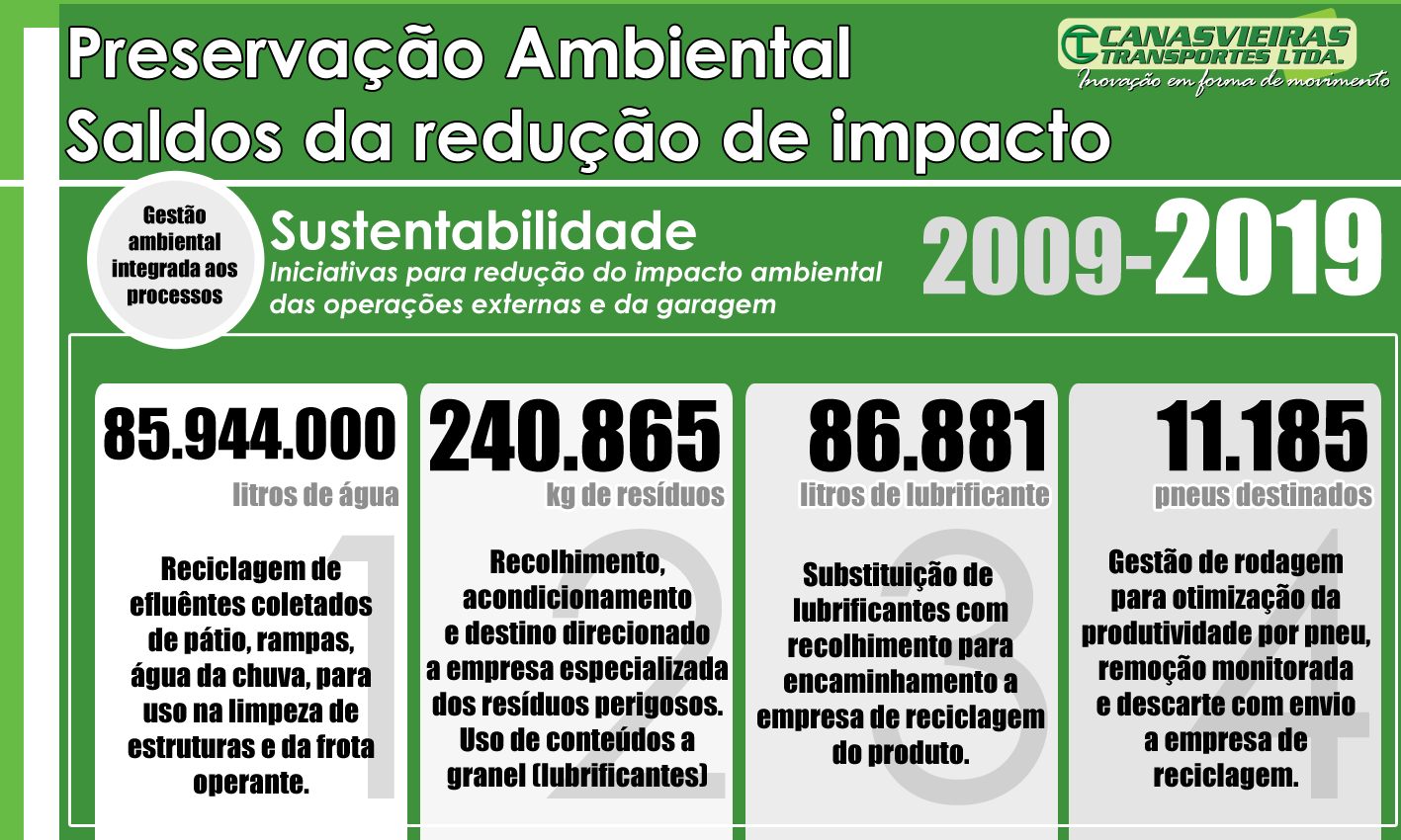 2009-2019 Environmental Balance
In 2019 our good practices make the difference for a better world
Since 2008, the company Canasvieiras has applied environmental management in a structured way, through internal procedures and also permeating other processes with the concerns inherent to the theme. The environmental issue became a decision value, whether for works, renovations, new operations, choice of bus models and management of inputs and consumption of materials. Since the acquisition, during the use and disposal of these materials, the process is mapped, controlled and measured, in order to reduce the impact of the organization's operations. Currently, six items call attention to its environmental impact: (1) Fuel consumption; (2) Water control; (3) Lubricants; (4) Generation of waste due to maintenance processes; (5) Tire management; (6) Pollution through fuel.
For each theme, a strategy was put in place. When evaluating fuel consumption, we have all the work of managing the cost, driving drivers (through instructing and telemetry) in search of increasingly smaller numbers. Each type of vehicle and operation has goals based on the principles of rationalization and reduced environmental impact. In the case of water, today all the water used by the garage's production processes comes from recycling. All effluent that is deposited in our process, must be treated in a closed system. Since 2009, we have treated 85.944 billion liters of water. The lubricants are all collected after replacement, and then sent for recycling, in a total of 86,881 liters since 2009. In addition, all of our lubricant uses bulk packaging, avoiding plastic disposal and contamination. The waste since 2009 already totals a total of 240 tons of wishes sent in a controlled way for disposal. When dealing with tires, in the last 10 years, a total of 11,185 tires have already been sent for recycling. When we talk about pollution, since 2012, we have adopted the Euro 5 models, which severely reduce particulate emissions. Allied to the annual participation of the project DESPOLUIR, of CNT, and we have the fleet always up to date on this matter.
Although the numbers are impressive, the important thing is to generate the concept and concern. We understand that just as the ISO 9001 certification created the concept of customer focus in the company, environmental management goes beyond the company's gates, given that these concepts of concern for the environment and society are carried by employees to their families, friends and acquaintances . Finally, making a difference, in addition to the practical actions described and planned, also includes changing the level of concern of society that we are inserted on the subject and the creation of a concept oriented to the health of others.
Comentários